Austrian Philharmonic 1-Ounce Gold Coin
There has rarely been a better time to invest in gold coins. Investing in gold has always been a smart way to keep your money safe, as it means investing in a physical asset that maintains its value even as other assets crash around it. Gold gets its value from its inherent scarcity and this is something that is unlikely to change. There is only just enough gold in the world to fill a few Olympic pools, so you can rest assured that it will never lose its value.
That's why investing in gold is often a great way to keep your money safe and to ensure that you have some savings for retirement, or for that rainy day when you need them. It's also why investing in gold is such a good idea during times of economic hardship (like now, in other words). For all the reasons we've just seen, gold is one of the only assets that is likely to actually go up in value during a recession.
And when it comes to investing in gold, investing in gold coins makes even more sense. That's because this is a type of cold that you can actually physically own. It means that your gold isn't being kept in a large vault somewhere overseas but you can actually hold it in your hand. This is called 'direct ownership' in the business, and it is a way to be even more guaranteed in your investment, while also benefiting from a lack of fees and bills associated with storage, transportation and withdrawal.
Appearance
As gold coins go, the Austrian Gold Philharmonic 1-oz gold coin is an excellent choice and a really beautiful thing to behold. The front of the coin depicts the Great Pipe Organ that is located in Vienna's Golden Hall. This is alongside the value and the words 'Republik Osterreich'. The organ looks absolutely magnificent in in its depiction. This is a huge organ that looks like an Ancient Greek or Roman monument at first pass. It is positioned centrally on the coin and has a very imposing effect as a result.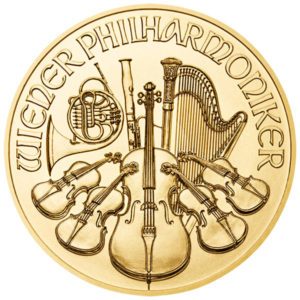 On the reverse are a collection of instruments that elude to those used in an orchestra. These include a harp, an oboe, violins, a cello and a trombone. They're arranged in a symmetrical fashion and again are a very attractive pattern when viewed together. The words along the tip read 'Wiener Philharmoniker'.
Information
The Austrian Gold Philharmonic 1-oz gold coin is very popular and this drives production somewhere between 100,000-200,000 coins annually. Part of this popularity is down to the striking, modern design and indeed it is a relatively modern coin having first been printed in 2008. Despite this, the coin nevertheless maintains tradition and is in keeping with the conservative values of Europe. It also boasts a reeded security edge for extra protection.
The coin has a purity of 999.99 and also boasts a number of other advantages. That weight and purity for instance is guaranteed by the Austrian Mint, which is accepted as a world standard. This makes it a great choice for investors and means it's easy to find daily buy and sell prices to help with trade. The coins will follow the world price of gold and this also makes them a predictable and safe investment choice.
These coins are a pure gold coin with no alloy. This is fairly unusual and means that they are particularly appealing to the European and Asian markets. They also come with hard plastic tubes which can hold 10 of the coins each and will snap tightly shut. This is ideal for investors as it means you can very easily store and transport the Austrian Gold Philharmonic 1-oz gold coin without worrying about them going missing or getting damaged. There is no dealer reporting requirement for the coin when you buy or sell.
This is a great time to invest in Austrian Gold Philharmonic 1-oz gold coin. Because the Austrian Mint produced such a high number of these coins in response to the massive demand, the premium over spot is currently very low and that makes it a fantastic investment opportunity for those looking for bullion.
Conclusion
In short, the Austrian Gold Philharmonic 1-oz gold coin is a beautiful coin that has a lot of unique advantages. With its low current price, its stunning design, its cultural heritage and its easy transportation, it's a great time to invest.
And invest in gold coins you should! With the price of the dollar being so unstable and even more uncertainty for the economy on the horizon, this would be an excellent time to play it safe and put your money where you can be sure it will retain its value. And if it just so happens to look stunning, then that's a great bonus too!